Building St Helena Airport – An Industrial Scale 'Grand Design'
A remarkable construction project is underway to bring the remote South Atlantic island of St Helena closer to the outside world: VIDEO
St Helena a 420 km² volcanic island, with a population of 4,300, is a British Overseas Territory 1200 miles off the coast of South West Africa.  The island has neither had an airport or even a jetty in the past.  The current life line has been landing by boat from RMS St Helena.
St Helena Government and the UK Department for International Development are spending around £250 million on the development of the airport.  They hopes the investment will promote tourism to the island and reduce the UK's £25m annual subsidy. The runway location was identified by Atkins.  A series of trial approaches had been conducted in 2006 with a Safair Lockheed Martin L100-30 Hercules and a study by the UK Met Office, on matters such as wind shear, followed.
In November 2011 a contract was signed with South African construction company Basil Read. Due to the geography and lack of equipment and material on the island, the project is exceptionally demanding logistically.  Around 70,000 tons of goods had to be shipped to the island, including 20 million litres of diesel, 20,000 tons of cement, 5,000 tons of explosives and more than 100 items of construction plant.
The projects, centred on Prosperous Bay Plain in the east of the island, entails:
a 1850m concrete runway with taxiway and apron to cater for aircraft up to the size of an Airbus A320 or Boeing 737-800;

approximately 8 million m³ rockfill embankment through which a 750m long reinforced concrete culvert will run;

an airport terminal building of 35,00m² and support infrastructure;

air traffic control infrastructure;

bulk fuel installation for 6 million litres of diesel and aviation fuel;

a 14km airport access road, and all related logistics.
A key milestone has recently been achieved by the filling of Dry Gut valley with 450,000 lorry loads of material, moved over 22 months.
The airport is scheduled to open early in 2016.  The operational phase will be in partnership with Lanseria Airport for the first 10 years. Read more here and these project updates and here for the competition to provide air services.
UPDATE 21 March 2015: See also this update from Think Defence and this BBC article.  South African airline Comair has been named the preferred bidder for the air service.  Comair is proposing a weekly flight between Johannesburg (JNB – O.R. Tambo International Airport, formerly known as Johannesburg International Airport) and St Helena using a Boeing 737-800 aircraft.
UPDATE 11 August 2015: Erecting of the security fencing commences next week and will be in place by late October 2015, prior to the airport certification audits.  The photos below show progress from earlier in the year. Navaid calibration flights are scheduled for mid-September 2015 with a Beechcraft King Air 200, subject to approval from Air Safety Support International (ASSI) for temporary use of the runway.  ASSI's Senior Aerodrome Inspector is expected to arrive on-Island on 29 August 2015 to carry out that assessment.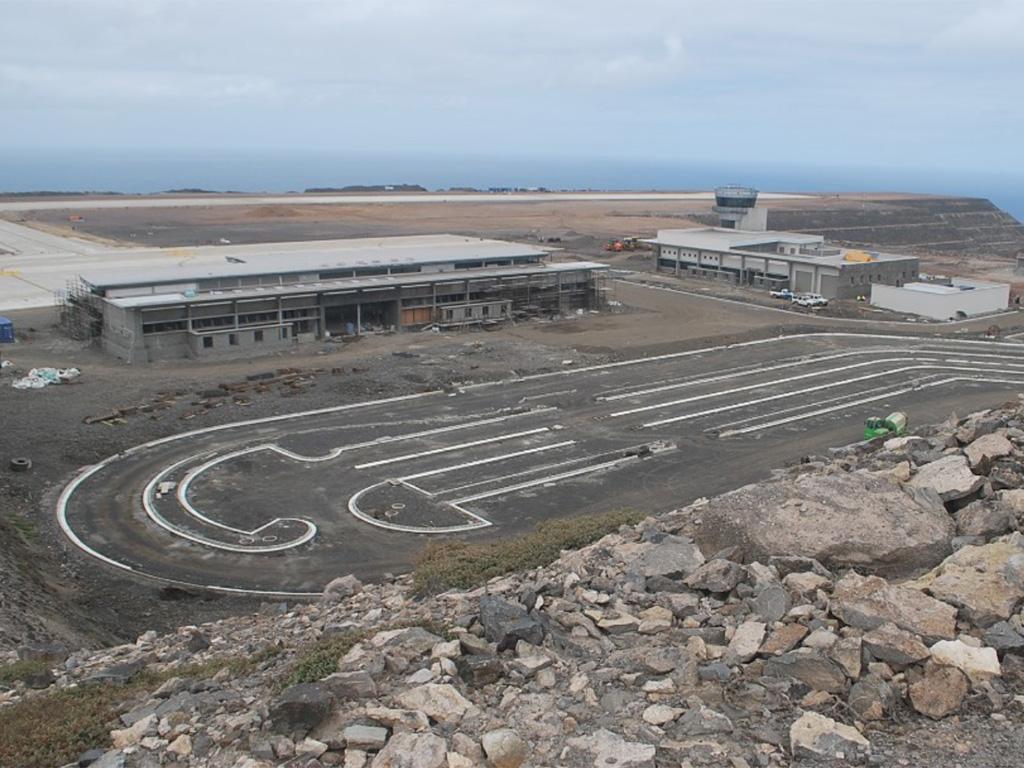 ASSI is a not-for-profit, wholly-owned, subsidiary of the UK Civil Aviation Authority (CAA), established under directions from the UK Department for Transport (DfT) to help provide a "more cohesive system of civil aviation safety regulation" in the UK's Overseas Territories.
UPDATE 5 September 2015: Permission has been granted for the calibration flights.
UPDATE 16 September 2015: The calibration aircraft was due to arrive between Sunday 13 and Thursday 17 September 2015, dependent upon suitable weather and other factors. The aircraft, commanded by Captain Grant Brighton, was able to make the historic first landing on Tuesday 15 September 2015 at 1550 local time (cockpit video). https://www.youtube.com/watch?v=9vmRS9txdag
ZS-TAE is chartered from TAB in South Africa and will be used by UK company Flight Calibration Services Limited, operating in accordance with CAP670.
UPDATE 24 September 2015: The St Helena Government have confirmed the calibration flights were completed on 23 September 2015.  The data now has to be assessed.
UPDATE 25 September 2015: More video.
UPDATE 9 October 2015:  The preliminary findings are with Basil Read who are taking corrective action.  The St Helena Government say:
The majority of these are minor tweaks to equipment, but in a few cases some redesign and relocation work might be required.  This includes the Localiser and DVOR. Basil Read is working with Thales and FCSL to carry out modelling work to inform the design and determine the extent of the rectification work.  FCSL will return to the Island, possibly in the latter part of 2015 or early 2016, to recalibrate the NavAids following the rectification work.
It has also been announced that Comair will also under take flights from St Helena to Ascension Island (ASI).  This will help islanders who work on this other British Overseas Territory, but may allow connection to the Air Tanker operated service between the UK and Falklands with Airbus A330s that stops at Ascension.
UPDATE 19 October 2015:  The first phase of ASSI audits will begin 31 October 2015, with a second phase expected in January 2016.
UPDATE 28 October 2015: A series of charter flights to/from the UK (via Banjul, Gambia) in 2016 are announced.  The service will be operated by Dutch airline TUI-fly using a Boeing 737-800.
UPDATE 4 November 2015: An emergency response exercise was held supported by the St Helena Police, Fire & Rescue and Sea Rescue teams along with the Health Directorate.
UPDATE 7 November 2015: The planned date for flight operations to commence was Saturday 27 February 2016.  The St Helena Airport Programme Board has recommended a short period of additional time in order to "fine tune the operational readiness of St Helena Airport".
UPDATE 4 December 2015: Following the calibration flights performed during September 2015, the DVOR and Localiser navigational aids have been relocated.  The St Helena Government have announced:
A second round of Calibration flights for St Helena Airport is planned for next week, with the Beechcraft King Air 200 aircraft due to arrive on Saturday 12 December 2015 and depart around Sunday 20 December.
UPDATE 8 December 2015: Due to the late arrival of the RMS St Helena with the Air Traffic Controller necessary as the ground based observer for the trial (due to an issue with the ship's refrigerated cargo) the aircraft is now expected 13 December 2015.
UPDATE 30 December 2015: Conde Nast reports: Why St. Helena, One of the World's Most Remote Islands, May Be Overrun in 2016
UPDATE 29 January 2016: The latest progress update:
Basil Read is currently taking part in a further round of desktop audits with the regulator, Air Safety Support International (ASSI). Alongside this, work is progressing well on a number of fronts in relation to preparation for Airport operations. The outcome of the desktop audits is expected in February, and this will inform next steps, including the requirements for an on-Island audit – needed in order to certify the Airport.
UPDATE 8 March 2016: The latest progress update:
Basil Read has now progressed to the final round of desktop audits which are taking place this week. Pending the outcome of these desktop audits, we then progress to an on-site audit by ASSI. This is provisionally scheduled for early April 2016, but the exact timing is dependent on any corrective action required following the desktop audits. The target date for the official opening of St Helena Airport remains Saturday 21 May 2016 – with airport operations to commence prior to this.
South Africa's Comair ready to operate from St Helena's airport with a Boeing 737/800
Although the flights from Johannesburg to St Helena were originally "earmarked for late February 2016", Comair CEO Erik Venter said that Comair was still awaiting final certification of the island's new airport…

Venter said he was optimistic that the inaugural flight should take place by May this year.
UPDATE 5 April 2016: Extensive photographic coverage of the new terminal can be see here: The Brand New St Helena Airport Is Amazing
UPDATE 10 April 2016: An ASSI team have arrived by ExecuJet Bombardier Challenger 300 ZS-ACT, the first jet aircraft to land at HLE, for a one week on-site audit of St Helena Airport as part of the certification process.  The aircraft was also expected to make several trial flights during the audit.  VIDEO
UPDATE 15 April 2016: The airport is now scheduled to be officially opened on 21 May 2016 during a royal visit by HRH The Prince Edward, Earl of Wessex.
UPDATE 18 April 2016: A Comair Boeing 737-800 (ZS-ZWG) made a trial flight today.  Move coverage can be found here.
UPDATE 25 April 2016: RMS St Helena for sale
UPDATE 26 April 2016: The opening is postponed:
St Helena Government today confirms that further safety and operational work is required prior to the Official Opening of the Island's new Airport – and that this event has therefore been postponed. While this means that the Airport will not officially open on 21 May 2016 as originally planned, the safety of aircraft and passengers is of course paramount.

One outcome of the Implementation Flight has been the gathering of additional data on turbulence and windshear on the approach to Runway 20 (from the North).  As a result of the data gathered and the conditions experienced, it has been decided that there is some additional work to be done…

Windshear refers to a change in wind speed or direction, including a rapid change over a short distance.  Difficult wind conditions, including turbulence and windshear, are encountered and safely managed at many airports around the world.
UPDATE 11 May 2016: The airport has received its ASSI certification however concerns about wind shear appear to be delaying services commencing.
UPDATE 3 June 2016: A Dassault Falcon 20 aircraft, chartered by emergency response specialists ER24 from Guardian Air arrived from Walvis Bay, Namibia, to collect a baby needing urgent medical care. 
Gwyneth Howell, Head of Operations St Helena Airport said:
"We activated the evacuation last night (Thursday). They made a decision this morning. They…landed successfully on runway 02…
The St Helena Government also announced:
…all parties are working to overcome the challenges of wind shear identified by the first few flights into the Airport. This work includes the development of appropriate operational procedures needed to allow services to use the northern Runway (20), where wind shear has been identified, as well as options for using the southern Runway (02), where wind shear has not been identified.

SHG will therefore honour its commitment to maintain access by extending the service of the RMS [St Helena] as an interim measure and for a limited period until air services begin. This service will be for passengers and freight. The schedule can be viewed at: http://rms-st-helena.com/schedules-fares/ and bookings will be accepted from Monday 6 June 2016.
UPDATE 7 June 2016: More detail has been released on the F20 medevac flight.
UPDATE 9 June 2016: The National Audit Office (NAO) publish a report on the project, noting:
This investigation looks at the key assumptions in the Department for International Development's cost-benefit analysis to support its investment in the airport. It also considers the Department's ability, in partnership with the St Helena Government, to realise the benefits from improved access to the island that they expect the airport will provide. The Department could incur additional costs as a result of delays to the opening of the airport.  The Department and the St Helena Government are currently considering options for addressing the impact of difficult wind conditions on landing the aircraft safely.  The Department has not yet forecast the additional cost of each option. Given the limited number of precedents for building an airport in a remote location such as St Helena, estimating the likely costs and benefits of a project such as this is an inherently difficult task. The Department's estimate of the total subsidy it will pay the St Helena Government from 2016 (when the airport should open), to 2043 (when it forecasts its annual subsidy will end) is £667 million. Sensitivity analysis shows that the year in which the Department stops paying an annual subsidy, and the total paid, will depend on whether the estimates of, for example, tourist numbers and tourist spend are exceeded or missed.
In comparison, its estimated total subsidy would be £834 million if RMS St Helena was replaced instead.
UPDATE 10 June 2016: Governor Lisa Phillips has issued a statement:
Press reports in the UK  and elsewhere that describe St Helena Airport as being 'scrapped', 'mothballed' or 'postponed indefinitely' are incorrect.  The situation remains as in our last update.  This is that there are wind shear challenges on one runway (20, the northern approach) which means larger planes (e.g.. 737-800) cannot currently land safely.  We are collecting wind data which will allow larger planes to land on this runway, but this will take some time.  In the meantime, we are working hard to identify an interim flight solution that can land on our second runway (02, from the south).  There is no wind shear on this second runway, but there is a [prevailing] tailwind.  We have identified aircraft types which can land in these conditions, and airlines that have such planes – and we are now exploring the specific availability of aircraft with these airlines. The Airport is certified and open, as demonstrated by the emergency medevac flight last Saturday when we were able to fly a sick baby to Cape Town.
It is not clear what recourse the government has to recover some of the costs from the consultants involved.
UPDATE 21 June 2016: A sixth fixed wing flight, a Bombardier Challenger business jet aircraft operated by ExecuJet and chartered by Basil Read for an airport staff crew change, arrived on 20 June and departed 21 June without problem.
UPDATE 28 July 2016: In the latest St Helena Government statement it is reported:
The Governor continues to chair weekly meetings of her senior technical and planning staff in order to understand the issues, make decisions, ensure the public are properly informed in a timely manner, and push forward all areas of work.  These meetings began as soon as the issue of wind shear became apparent, and they continue. Councillors are represented at these meetings. In terms of the northern and southern approach (Runways 20 and 02 respectively) we now have more than five months of weather data, plus reports of the experience of each of the nine flights that have so far operated various approaches into the Airport. Another aircraft is due to arrive tomorrow. We are also installing more specialised equipment at the runway to monitor weather conditions and are employing computer and physical modelling to build a stronger picture of the conditions under which we will be asking aircraft to operate. All of this is building up a body of evidence. Intensive work continues to consider an interim aircraft solution into the southern approach (Runway 02). A key issue here will be the level and frequency of tail wind speeds, given the constraints these can place on aircraft performance. We are gathering more data on both wind patterns and speeds to facilitate these considerations.  Longer term solutions for using the northern approach (Runway 20) are receiving the same attention.
UPDATE 24 August 2016: An aircraft of the US National Oceanic and Atmospheric Administration (NOAA) is expected to make three data gathering circuits today en route to Africa.
UPDATE 23 September 2016: Residents are demanding compensation for the money lost from expanding their businesses in preparation for the promised tourists.
UPDATE 17 October 2016: A minister has acknowledged lessons need to be learned over the delayed opening of a UK foreign-aid funded airport:
Pressed over the delayed opening in the House of Lords, international development minister Lord Bates said: "Scheduled commercial flights will begin when the conditions are considered safe and the St Helena Government is able to contract with an airline with the right aircraft and regulatory approvals, so that St Helena can develop its tourism industry and become less dependent on UK financial support."
UPDATE 20 October 2016: Basil Read, who constructed the airport and have ongoing support contracts:
…says it is not to blame for the design debacle, which has seen wind shear and turbulence prevent commercial flights from landing on the remote south Atlantic island, despite the opening of the airport to traffic. "Basil Read is not to blame [for the wind shear problems]," says Jimmy Johnston, executive officer responsible for the St Helena airport project. "The airport has been fully operational since the aerodrome certificate was issued, with various charter flights landing on a regular basis."
UPDATE 21 October 2016:  An Avro RJ100 operated by Tronos Jet Maintenance arrived from to Wideawake Airport, Ascension Island and made an overnight stop.
The Tronos flight will provide the Airport with additional real time data and a pilot's report – all part of building a more comprehensive picture of the conditions at St Helena Airport under which we will be asking a scheduled air service to operate.  The flight is also planning, weather permitting, to conduct some additional circuits on Saturday to gather further data for the Airport.  
Atlantic Star [who had personnel on board] is one of a number of potential partners with an interest in operating regular flights to St Helena. Tronos Jet Maintenance is delivering this particular aircraft to Chile.  The flight, originating from Zurich, Switzerland, has taken a route which has seen it make technical stops in Morocco, Senegal, Ascension Island and St Helena.  From St Helena, the flight will call at Ascension Island, Brazil and Uruguay, finally arriving at Presidente Carlos Ibáñez del Campo International Airport, Chile – the final destination.
UPDATE 4 November 2016: St Helena airport will require an 'open chequebook': More public money will have to be spent if £285m hub is to function for island's 4,000 inhabitants, MPs told.
Mark Lowcock, DfID's permanent secretary, told the committee repeatedly that he would prefer not to say who might be to blame for failing to discover the strong winds at the airport because of an ongoing internal review. He said officials were in talks with carriers about launching flights, but it would involve much smaller planes than previously envisaged.
Stephen Phillips, a Conservative committee member, pointed out to Lowcock that in the 19th century the anthropologist Charles Darwin in his travel journal The Voyage of the Beagle referred to the wind shear on St Helena.
UPDATE 10 December 2016: Flight trials with an Embraer E190 are reported to have been positive.
https://youtu.be/oCuVnIwqhWY
UPDATE 14 December 2016: MPs deride 'disastrous' St Helena airport where landing is unsafe
UPDATE 19 December 2016:  A Royal Air Force (RAF) Lockheed Martin C-130J Hercules, commissioned by DFID:
…successfully conducted a technical flight at St Helena Airport from Sunday 18 (arriving at 13.23hrs) to this morning, Monday 19 December 2016, departing for Ascension Island at 10.23hrs.

The aircraft carried out approaches to both runways, conducted a fly-by at 500 feet and a 'teardrop' turn – landing without problem on Runway 20, from the north.

A flight report will be provided to DFID – all part of helping St Helena Airport assess operating and landing factors and build a more comprehensive picture of the conditions under which we will be asking a scheduled air service to operate.
UPDATE 26 January 2017:  An RFP for air services has been extended to 6 Februray 2017.
UPDATE 5 May 2017: Over a year after the first trial airliner flight, with an operator still to be selected in the second tender, and with the RMS St Helena stuck in Simonstown, SA after a broken prop shaft, an Airlink Avro RJ85, ZS-SSH, was chartered to move stranded passengers in the first proper commercial flight from the airport.
UPDATE 9 June 2017: The St Helena Government has announced that SA Airlink has been chosen as the preferred bidder for the provision of a scheduled commercial air service to St Helena.
SHG will now enter into a period of contractual negotiations with SA Airlink. It is anticipated that a formal announcement will be made in the coming weeks on completion of negotiations and contract signing. It is at this point SHG will be able to confirm details such as the commencement date, frequency, aircraft type, the international hub and connecting airports.
UPDATE 14 October 2017: St Helena: Flights to remote Atlantic island begin at last.  The St Helena Government say:
…the first ever commercial flight from South Africa touched down at St Helena Airport at 1.59pm.

Using their Embraer E190-100IGW aircraft, Airlink brought in this inaugural flight from OR Tambo International Airport in Johannesburg, following a six hour journey incorporating a fuelling stop in Windhoek, Namibia.

Airlink will now operate a weekly service between St Helena and Johannesburg and St Helena and Cape Town (via the stopover at Windhoek International Airport).

72 passengers comprising returning Saints and invited guests…were greeted by HE Governor Lisa Phillips on arrival and then by a full St Helenian welcome in the packed Arrivals Hall.

The flight will depart St Helena tomorrow, Sunday 15 October 2017, at 2.30pm.

Airlink will also operate a monthly charter service between St Helena and Ascension Island. This service will commence with the first flight from St Helena on Saturday, 18 November 2017, and returning on Sunday, 19 November. Thereafter the flight will take place on the second weekend of every month.
UPDATE 21 April 2020: Titan Airways became the first operator to land an Airbus airliner at St Helena with the arrival on 20 April 2020 of A318 G-EUNB. Chartered by the UK government to carry to carry medical staff and 2.5t of essential medical supplies the aircraft routed from Stansted via Accra and Ascension.
The crew also performed six landings for crew training, says Titan, in anticipation of future flights to the island. "St Helena is category-C airport requiring specific crew training and regulatory approval due to known wind shear issues encountered on final approach," it adds.
UPDATE 30 July 2020: A Titan 757 visits: VIDEO
---
The airport is coded IATA: HLE and ICAO: FHSH.
Aerossurance has extensive air safety, operations, airworthiness, human factors, aviation regulation and safety analysis experience.  For practical aviation advice you can trust, contact us at: 

enquiries@aerossurance.com
Follow us on 

LinkedIn

 and on Twitter 

@Aerossurance

 for our latest updates.