Heli-Expo 2018 Photo Report
Its that time again!  We bring news from the annual HAI Heli-Expo being held this year, as the sign says, in 'fabulous Las Vegas, Nevada'.
 All show photos © Aerossurance unless otherwise stated.
Airbus Helicopters H160
Airbus brought the second prototype H160 to the US for Heli-Expo, a sales tour and high altitude testing in Colorado.
Production H160 central and front fuselages will be produced pre-equipped at Donauworth in Germany. Tail booms produced Albacete in Spain, and main rotor blades would be produced at La Courneuve, near Paris. They will be assembled in Marignane near Marseilles, where the dynamic components are also produced. Airbus is introducing new lean production processes aiming to reduce assembly to just 24 weeks, compared with 36 for the AS365N3.
Of special note was the effort Airbus went to to demonstrate that the SafranArrano powered H160 has also been designed for maintainability.  All scheduled maintenance (with the exception of the 50 hour oil check and top up) is visual only.  Twice each day Airbus staged a demonstration of access to the upper deck.
Note the fall arrest system, attached by a yellow strop around a blade spindle (a technique pioneered for the original Bristow AS332L2 JIGSAW SAR trial with G-JSAR).
All hydraulics is above the cabin in the production aircraft, as the landing gear will be electrically actuated.  This prototype did feature a stand-alone hydraulic pack in the baggage bay.
At the show Babcock announced a five year frame agreement for the purchase of a fleet of H160s as launch customer.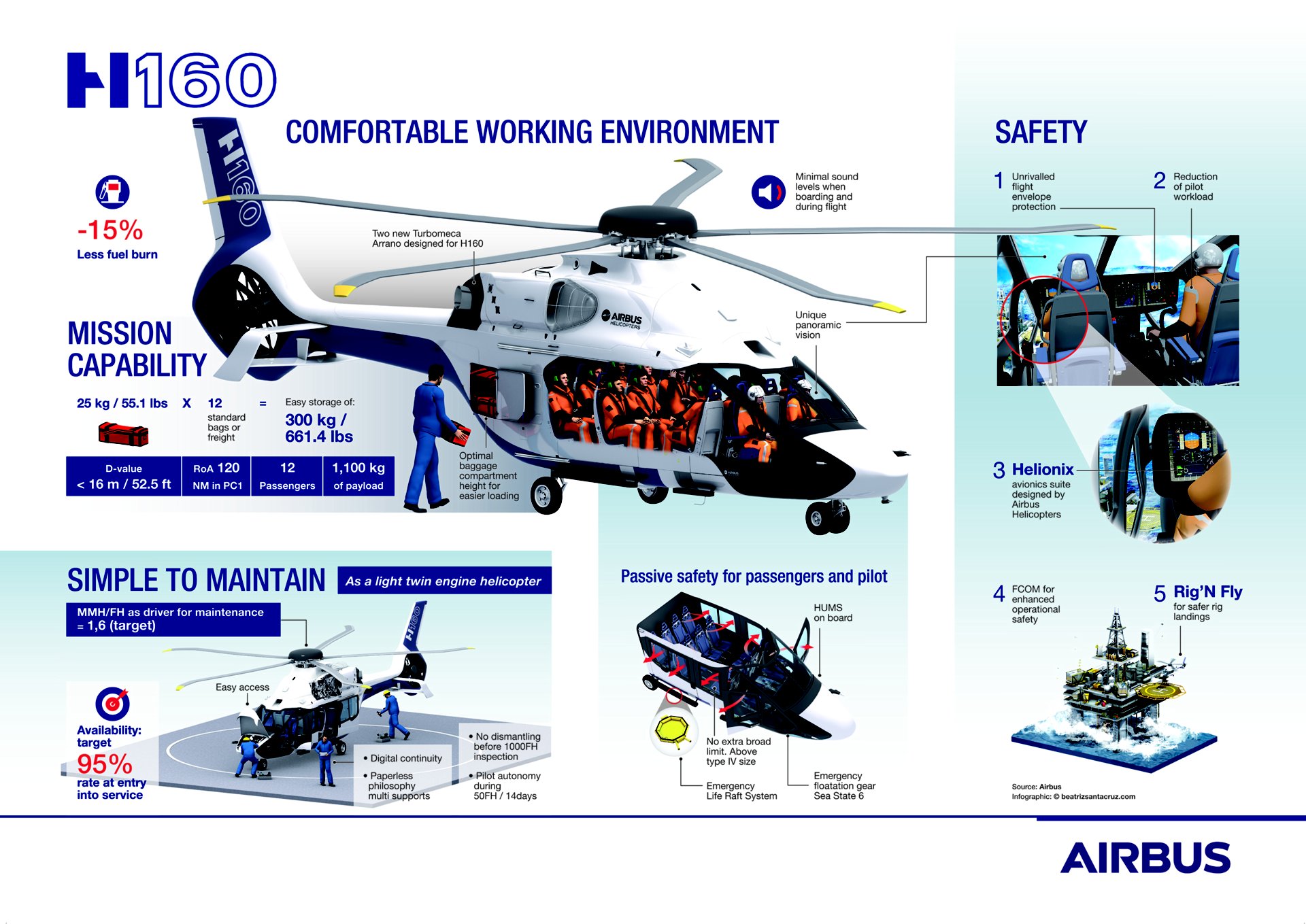 https://youtu.be/jPmUHFuIsVg
https://youtu.be/s3E1SqrvgXc
Bell 525
Bristow signed a Memorandum of Understanding (MoU) with the rebranded Bell to explore the 525's possible use in the search and rescue (SAR) role.  Certification of the 525 is expected "early 2019" after a delay caused by an accident in flight test (see: Bell 525 Prototype N525TA Fatal Flight Test Accident).  One relatively unique feature of the 525 is Fly By Wire (FBW)  controls.
Bell 212
This refurbished Era B212 was on show.
Leonardo AW139 MUH
Leasing company Waypoint has commissioned the conversion of an early short nose Leonardo AW139 to a Medium Utility Helicopter (MUH) configuration with the aim of placing redundant oil and gas helicopters into the onshore utility sector.
Leonardo AW169
In our opinion the smartest colour scheme at the show was this AW169.
Leonardo AW609
Era are to take delivery of two AW609  tilt rotors in 2020, making them US launch customer. They could be used in a variety of missions, including offshore/utility, VIP transport, EMS and SAR (Era have not settled on a specific role).  Like the B525, the AW609 suffered an accident in flight test that has delayed certification.
Sikorsky S-70 Firehawk and Black Hawk
An LA County Fire Sikorsky S-70 Firehawk was on show:
https://youtu.be/NecrS7cybOw
Also on show was an S-70 Black Hawk of the US Customs and Border Protection (CBP) Air and Marine Operations (AMO), a component of the Department of Homeland Security (DHS).
AMO use the type to perform missions such as "maritime, aviation, and land interdiction; insertion of agents in remote areas; and joint operations during contingency operations and national taskings, such as disaster response".
In most cases the this message on the tail feels more like a warning to their targets than those unaware of the danger of the tail rotor!
UPDATE 25 March 2018: Black Hawks for hire
Human Centred Design
An excellent initiative to create more Human Centred Design by use of a Human Hazard Analysis is described in Designing out human error.  This was discussed at a number of meetings at and around Heli-Expo
HeliOffshore, the global safety-focused organisation for the offshore helicopter industry, is exploring a fresh approach to reducing safety risk from aircraft maintenance. Recent trials with Airbus Helicopters and HeliOne show that this new direction has promise. The approach is based on an analysis of the aircraft design to identify where 'error proofing' features or other mitigations are most needed to support the maintenance engineer during critical maintenance tasks.

The trial identified the opportunity for some process improvements, and discussions facilitated by HeliOffshore are planned for early 2018.
Aerossurance Success
By the end of Heli-Expo we have been commissioned for two new projects (safety leadership and health monitoring) and been approached on two other international projects (HF and aircraft procurement) for later in 2018 and onwards.
---
See also our 2015,  2016 and 2017 reports.
Next year Heli-Expo visits Atlanta, GA for the first time.
Aerossurance has extensive helicopter safety, design, acquisition, operations and airworthiness experience.  For practical aviation advice you can trust, contact us at: 

enquiries@aerossurance.com
Follow us on 

LinkedIn

 and on Twitter 

@Aerossurance

 for our latest updates.