Distracted Dynamic Rollover (R22 N19VH)
On 6 April 2022 Robinson R22 Beta II N19VH of Quantum Helicopters was damaged at Phoenix-Mesa Gateway Airport, AZ during a night solo training flight.
According to the US National Transportation Safety Board (NTSB) safety investigation report (released on 13 July 2022), the helicopter had landed and was rotors running reportedly with "full collective friction applied".  The pilot (who had 177 hours total time, all on the R22) used a torch to view the Hobbs meter.  This was due to it being their last solo flight and they wanted to confirm if the flight was going to accumulate sufficient time.
Unfortunately "the collective crept up, the helicopter rolled to the right and dynamically rolled over".
The canopy, horizontal stabilizer and main rotor were damaged, although the pilot was uninjured.
NTSB Probable Cause
The pilot's failure to maintain helicopter control while on the ground when his attention was diverted, which resulted in a dynamic rollover.
Safety Observations and Distraction & Dynamic Rollover Safety Resources
The pilot stated in the accident report form that in relation to preventing the accident:
I could have prevented the accident by trusting the timer that I had set in the aircraft instead of needed a visual confirmation of the hobbs meter.

I could have also rolled down the throttle to lower the RPM's of the rotor head prior to checking the timer.
EHEST Leaflet HE 1 Safety Considerations discuses static and dynamic rollovers.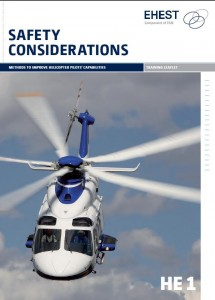 The UK CAA has issued this infographic on distraction:
Other Safety Resources
The European Safety Promotion Network Rotorcraft (ESPN-R) has a helicopter safety discussion group on LinkedIn.  You may also find these Aerossurance articles of interest:
Also on human factors:
…and our review of The Field Guide to Understanding Human Error by Sidney Dekker presented to the Royal Aeronautical Society (RAeS): The Field Guide to Understanding Human Error – A Review
---
Aerossurance has extensive air safety, operations, SAR, airworthiness, human factors, aviation regulation and safety analysis experience.  For practical aviation advice you can trust, contact us at:

enquiries@aerossurance.com
Follow us on

LinkedIn

and on Twitter 

@Aerossurance

 for our latest updates.