A Lethal Cocktail: Low Time, Hypoxia, Amphetamine and IMC (R44 N744TW Utah)
On 17 May 2019, private Robinson R44 N744TW was destroyed in an accident near Alpine, Utah. The pilot and passenger both received fatal injuries.
The Accident
The US National Transportation Safety Board (NTSB) safety investigation report, published on 15 October 2021, explains that the 32-year-old pilot had just 145 hours total flight time, 32 on type.  He had "started an oil fracking company" and had rented the R44 from Utah Helicopters, where he had been trained (mostly on R22s).  He had departed Myton, Utah, at 09:30 with his wife, intending to fly to South Valley Regional Airport (U42), West Jordan, Utah, to pick up a second passenger before proceeding to Phoenix, Arizona.  A witness stated "it was raining lightly at that time."
There was no record of the pilot receiving any preflight weather information from an access-controlled source.
During the flight the pilots mother received several texts from the pilots wife and at 10:27 a video…
…showing the helicopter above a thick cloud layer with no discernible horizon. Some of the cloud tops appeared above the helicopter.
The NTSB explain that:
Radar data provided by the Federal Aviation Administration (FAA) revealed a target correlated to the accident helicopter first appear on radar at 0956 at an altitude of 10,400 ft mean sea level (msl), on a heading of 309° about 44 miles west of [Myton]. The helicopter continued generally on a west-northwest course…

The airspeed initially varied from 37 to 88 knots ground speed but stabilized to about 85 knots for most of the flight. The helicopter climbed to 13,000 ft msl at 1007 and remained between 12,700 and 13,000 ft ft msl until about 1030, when it descended below 12,500 ft msl.

The helicopter was not equipped with a supplemental oxygen system, nor were any supplemental oxygen provisions found at the accident site.

At 1031, the helicopter began a right descending right turn that continued until radar contact was lost at 1033 at an altitude of 9,200 ft msl and groundspeed of 108 knots, about 1,650 ft from the accident site. The data revealed that the helicopter completed about 2.5 360° turns before radar contact was lost.
NTSB Investigation & Analysis
The wreckage was highly fragmented, consistent with a high-speed impact. Examination of the airframe and engine revealed no evidence of any preaccident mechanical failures or malfunctions.

Weather radar imagery above the accident location between about 8,600 ft and 14,200 ft msl identified reflectivity consistent with light rain in an area that included the accident site.

The helicopter was likely operating in visual meteorological conditions above the clouds until its initial descent from about 13,000 ft, at which point the helicopter likely entered and remained in instrument meteorological conditions for the rest of the flight.

Although the altitude and duration of the flight did not meet regulatory requirements for supplemental oxygen use, it is likely that the pilot may have been experiencing some early effects of hypoxia, including euphoria, which may have exacerbated the effects from his use of multiple drugs.

Toxicology testing revealed a blood level of amphetamine (around 300 ng/ml) and the presence of phenylpropanolamine, indicating that the pilot was most likely using a street preparation of the drug.  Generally, levels above 200 ng/ml are the result of mis-using amphetamine to maximize its psychoactive effects.  Testing also identified phenylpropanolamine and oxycodone in blood and urine, and oxazepam in urine.  The…pilot had reported no medical conditions and no use of medications to the FAA.

Euphoria and over-confidence associated with the pilot's amphetamine use would have likely been exacerbated by the early effects of hypoxia due to his decision to operate the helicopter at high altitude.
NTSB Probable Cause
The noninstrument-rated pilot's continued visual flight rules flight into instrument meteorological conditions, which resulted in spatial disorientation and subsequent loss of control.

Contributing to the accident was hypoxia due to the high altitude at which the pilot chose to conduct the flight combined with the impairing effects of amphetamine use.
Our Observations
The NTSB Probable Cause and Contributory Factors don't mention the pilot's low experience but we'd consider that an underlying factor for the decision to fly at high altitude in the prevailing weather.  Low experience however doesn't excuse flying under the influence of "multiple drugs".
Safety Resources
The European Safety Promotion Network Rotorcraft (ESPN-R) has a helicopter safety discussion group on LinkedIn.  You may also find these Aerossurance articles of interest:
This EHEST leaflet covers various subjects including Degraded Visual Environments (DVEs).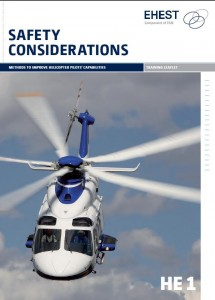 There is also EHEST Leaflet HE 13 Weather Threat For VMC Flights:
Robinson Safety Notice SN-44 discusses carrying passengers and the responsibilities of a pilot.
---
Aerossurance has extensive air safety, operations, SAR, airworthiness, human factors, aviation regulation and safety analysis experience.  For practical aviation advice you can trust, contact us at: enquiries@aerossurance.com
Follow us on

LinkedIn

and on Twitter 

@Aerossurance

 for our latest updates.