Aerossurance: Our Top 20 Articles of 2015
As we start the new year we look back on the 20 articles that proved most popular with our readers in 2015.  In reverse order:
Number 20: Building St Helena Airport – An Industrial Scale 'Grand Design'
This started with the building of the first airport on the volcanic British Overseas Territory of St Helena and has been updated through the year as the first calibration flights occurred.  The new airport is expected to be licensed early in 2016.  We will keep following the story into 2016!
Number 19: Crashworthiness and a Fiery Frisco US HEMS Accident
We are proud that this article, originally focused on an accident to a medical helicopter in Colorado and commercially available Crash Resistant Fuel System (CRFS) upgrades, came:
DAYS BEFORE the NTSB recommended (A15-012) a change in regulations
MONTHS BEFORE an association of US medical helicopter operators agreed to retrofit CRFS
Again we have repeatedly updated this article with the latest developments.  Below are a sequence of screen shots from security CCTV video (first shown by 9News):
Number 18: DuPont Reputational Explosion
Two process safety articles feature in the top 20.  Chemical company DuPont has been feted for its safety performance for many years, and even formed its own safety consultancy to market its 'secrets'.  But David Michaels, who heads the US Occupational Safety and Health Administration (OSHA), said in one interview in May 2015:
Based on what we saw in our inspection, if I were an employer, I would think twice before hiring DuPont to give me advice on safety.
Between 1995 and 2007 DuPont suffered one fatality but from 2007 to date they had 8.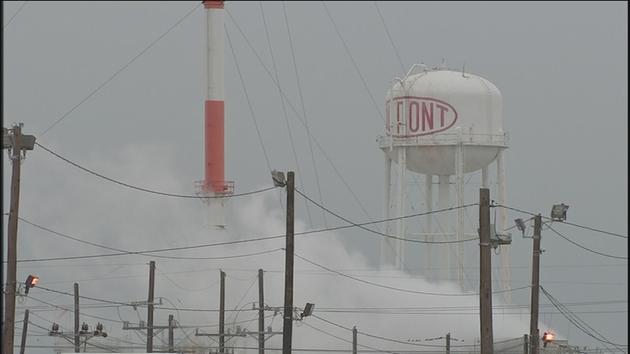 We looked in particular at an accident in November 2014.  Four workers were  asphyxiated at a DuPont facility in La Porte, Texas when 20 tonnes of a flammable and highly toxic gas were released into a building. The US Chemical Safety Board, in an interim statement, identified serious process safety shortcomings at the plant.
Number 17: USAF RC-135V Rivet Joint Oxygen Fire
A US Air Force (USAF) accident investigation paradoxically determined that a $62.4mn fire was due to a maintenance error but that no human factors were involved.
We look further at this accident, one of three top 20 articles that featured B-Nuts.
Number 16: NTSB Report on 2013 S-76 Tail Rotor Blade Loss
The US National Transportation Safety Board (NTSB) reported on a fatal Sikorsky S-76A++ accident.  During a post-maintenance check flight (one of three in the top 20) 2 tail rotor blades separated and the TGB began to disintegrate. All 3 POB died.
Number 15: Southwest Unstabilised Approach Accident
An unstabilised approach and a late change of control were critical in an accident that resulted in a nose gear collapse of a Southwest Airlines (SWA) Boeing 737-700 at La Guardia say NTSB.
Number 14: S-92A Emergency Landing: MGB Oil Checklist Recommendation
The Norwegian Accident Investigation Board (AIBN) raises concerns over the S-92A emergency checklist after a Main Gear Box related incident that resulted in a helicopter making an emergency landing on the obstructed helideck of a disused offshore platform.
We also look at sources of guidance for checklist design.
Number 13: AW101 VVIP
For the Very Very Important Person who wants a slight feeling of agoraphobia aboard their personal helicopter (or a shower!) we discussed the AW101. In the VVIP role the large AW101 cabin has the flexibility to be fitted out in a wide range of configurations.  We also look at how 3-D printing can help visualise cabin layouts.
The first flight took place of the first of two VVIP AW101's to be operated by the Nigerian Air Force (with a Defensive Aids suite visible and national marking covered).
Number 12: When Habits Kill – Canadian MD500 Accident
Habits can be dangerous when circumstances or equipment change.  In this case an apprentice removed the dog-house cover from the helicopter each morning.  A few days before the accident the pilot said he'd do this.
On the day of the accident, perhaps distracted and under pressure by the early arrival of his customers, the pilot forgot to remove the cover, or apparently do a pre-flight.  The cover, which was not visible from the cockpit, was drawn into the flying controls and a Loss of Control – Inflight occurred.  Four people died.
Number 11: Loose B-Nut: Accident During Helicopter Maintenance Check Flight
The second maintenance check flight (with another still to come!) and the second B-Nut accident in out contdown.  The US National Transportation Safety Board (NTSB) highlighted poor maintenance standards and continuing airworthiness management in a US helicopter air tour operator.
Number 10: CHIRP Critical of an Oil Company's Commercial Practices
The CHIRP Charitable Trust, who run the UK's Confidential Human Factors Incident Reporting Programme (CHIRP), has highlighted two "of the many" reports received relating to an oil company that changed its North Sea helicopter operator for the second time in three years.
In particular concerns were raised to CHIRP over the effect of psychological stress on flight safety amongst pilots faced with redundancy when the impending termination of the contract became known.  CHIRP then goes on to draw parallels with the attention on mental health since the loss of Germanwings Airbus A320 D-AIPX in the French Alps on 24 March 2015.
CHIRP do not name the oil company but their identity is well known in the industry.
Number 9: Fatal Night-time UK AW139 Accident Highlights Business Aviation Safety Lessons
This accident, on take off from a private, unlit, landing site at night and poor visibility reinforces many important past lessons on business aviation safety, managing clients, training, human factors and learning from previous accidents.
The AAIB discuss Somatogravic Illusions and possibly misidentify headlights on a car as as static lights.
This aircraft was being operated privately.  The European Aviation Safety Agency (EASA) Part NCC will introduce tighter regulation of such 'non-commercial complex' operations.
Number 8: BA Changes Briefings, Simulator Training and Chart Provider After B747 Accident
A British Airways (BA) sustained substantial damage when a wing hit a building while taxying at Johannesburg-O.R. Tambo International Airport (JNB).  We discussed how BA have enhanced their briefings, simulator training and changed chart provider.
Number 7: Canadian Coast Guard Helicopter Accident: CFIT, Survivability and More
A fatal Arctic Controlled Flight Into Terrain (CFIT) accident to a Canadian Coast Guard (CCG) helicopter highlighted a host of safety lessons, including:
Low level operation with varying visual clues
Compliance with approved maintenance data
Survivability
Alerting / Flight following
Search and Rescue
Data recorders
Regulatory oversight
Number 6: More US Night HEMS Accidents
At the beginning of March 2015 we published an article on the aftermath of a 2003 fatal night-time US HEMS accident: Life Flight 6 – US HEMS Post Accident Review.  During March 2015 there were two more fatal night-time medical helicopter accidents in the US.  In the first an EC130B4, operated by Air Methods struck the edge of a hospital building and crashed into a parking lot during a visual approach to the St Louis University Hospital elevated rooftop helipad.  A post crash fire ensued and the pilot died.
In the second an EagleMed AS350B2 crashed at night in deteriorating weather.  The pilot died.
We looked at the accident rates of both operators.  Each had had 4 fatal accidents in the previous 5 years (with a total of 17 fatalities).
Number 5: Heli-Expo 2015 Photo Report
Back in March 2015 we had a very fruitful week in Orlando, Florida.  We had a series of stakeholder meetings on the Flight Safety Foundation (FSF) Basic Aviation Risk Standard Offshore Helicopter Operations (BARSOHO) project (launched later in the year), got to renew our IS-BAO audit qualifications, met up with friends & colleagues and walked the floor the HAI Heli-Expo.
This article covered the unveiling of the visually stunning Airbus Helicopters H160, AW announcing a platform development agreement for the AW609 TiltRotor with Bristow Group, certification of the 7t AW139, Sikorsky recognising Bristow Helicopters' (then) upcoming launch of the new UK search and rescue (SAR) contract and the S-76D.
We also published a dedicated Super Medium Heli-Expo update.  The Airbus Helicopters H175, formerly marketed as the EC175, was represented by an aircraft in the colours of launch customer, NHV, who are opening a heliport in Aberdeen in 2016.
Number 4: Misassembled Anti-Torque Pedals Cause EC135 Accident
The third maintenance check flight and the third misconnection…  Commercial pressure, under-manning and a lack of independent inspections appear to contributed to the omission of key components from the flying controls (namely the bolts holding the yaw pedals). 
Number 3: AC-130J Prototype Written-Off After Flight Test LOC-I Overstress
The prototype AC-130J Ghostrider has been declared a total loss after the airframe was "severely overstressed" after a Loss of Control – Inflight (LOC-I) during a flight test from Eglin AFB, Florida.  The aircraft pulled 3.19 G and oversped the maximum flap airspeed by 100 knots during the botched test flight.  Loss of the aircraft is estimated at $115.6 million.
Number 2: Shell Moerdijk Explosion: "Failure to Learn"
On 3 June 2014 two major explosions and a fire occurred at a Shell petrochemical plant in Moerdijk, Netherlands. Two employees were injured in the explosions that were heard 20 km away.  Debris was found 800 metres away.
The Dutch Safety Board say Shell "failed to learn" from previous incidents and made recommendations on risk assessment. While complimentary about Shell initiatives such as 'Hearts and Minds', the DSB note that Hearts and Minds was not applied systematically and that since 2011 only one safety culture survey had occurred and that involved just 28 of 800 people on site (3.5%).  Shell had ranked themselves as 'calculative' on the Hearts and Minds culture scale, without the DSB say, any substantive measurements:
The DSB go on to say that Shell had failed to follow a number of their own procedures including their Management of Change process.
And the top story of the year:
Number 1: Dramatic Malaysian S-76C 2013 Ditching Video
Dramatic and unique passenger-shot video footage of a helicopter ditching next to a seismic ship and the subsequent rescue off Malaysia.
Perhaps it is not surprising that this article came top by a long way.  Not only does it feature a dramatic video but ditching survivability is a highly topical safety issue of public interest.
Fortuitously everyone on-board survived and the survey ship sent a boat back to pick them up.
Our article was picked up by several newspapers and industry blogs.  The official accident investigation report is due 'December 2015'.  When it emerges, we will naturally update our readers on the safety lessons.
UPDATE 30 December 2016: This was also our 2nd most popular article in 2016!
---
These 20 articles are just a selection of over 270 on our website covering a wide range of aviation and safety topics.
We thank all our readers for their support in 2015 and hope we can continue to prove a valuable source of information and insight in 2016!
Aerossurance are specialists in aviation safety, operations, accident analysis, airworthiness, regulations and successful contracting for aviation services.  For aviation advice you can trust contact: enquiries@aerossurance.com
Follow us on LinkedIn and on Twitter @Aerossurance for our latest updates.